My child's school is big on having parties to celebrate what they are studying. Different grades have had some really fun parties including an Egyptian party for 5th grade, a Dr. Seuss party for Kindergarten and I was asked to help decorate for my child's Robin Hood party. His grade is studying medieval times and they have read several books including Robin Hood. The teacher contacted all of the parents for help one week before the party and asked me and another mom to decorate the classroom. I usually like lots of time to research and plan decorations but I did my best on such short notice. Since the theme was Robin Hood., I thought it would be fun to turn the classroom into a forest for Robin Hood, his merry men and maidens. I pulled different things that I already had like the metal candle stick holders, lots of greenery, a bow, Robin Hood's hat, gold coins, wooden platters, fresh fruit and loaves of bread. Another parent picked the plates, napkins and cups.
Different parents made food for the banquet including roasted chicken legs, "trenchers" (rolls), fresh fruit, cheese, Ginger "Ale" and miniature cakes. Since the kids were studying the medieval times the teacher wanted to keep food that would have been available during that period and of course they could eat with their fingers.

The kid played several games outdoors including jousting, archery, and tax collecting. The winning team won bags of gold coins.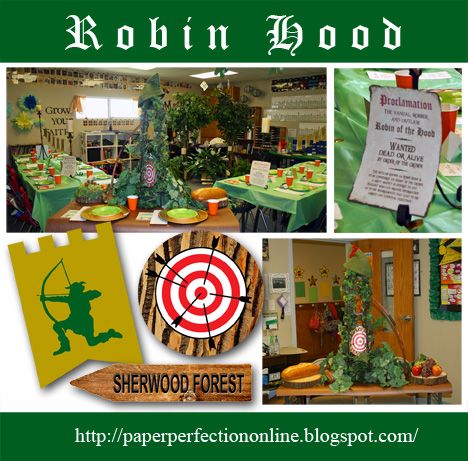 Of course I had to make some printables to match so I made one a day leading up to the party including a menu, Robin Hood banner, a Proclamation, Sherwood Forest and Nottingham signs and place cards so the children could find their place at each banquet table.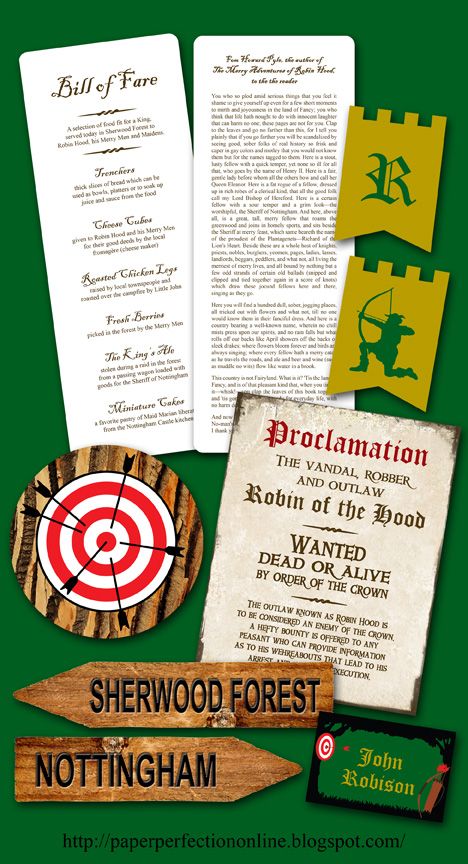 If you would like some of these items for a Robin Hood party or need custom items for your next event contact Paper Perfection at jtanddolly@yahoo.com for pricing and details.