Last year I helped plan a Christmas Tea for my church and it was such a success they are planning to make it an annual event. I know it is early for Christmas but I like to start way in advance planning for events so here are the invitations that I'm working on for this year's Christmas Tea.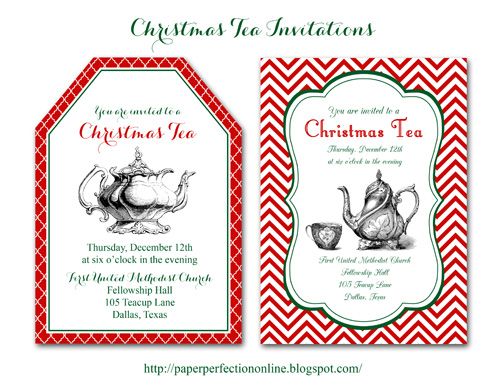 Each table was hosted by a different lady who decorated the table with her personal china and created a centerpiece that was given away to a guest at the table at end of the night. All of the tables were so beautiful! In fact, I wished there was a way that I could have cloned myself so I could sit at multiple tables and win the centerpiece. Here are a few pictures from our event.
If you would like one of the invitations and matching food labels for a Christmas Tea or a custom design for your next event contact Paper Perfection at jtanddolly@yahoo.com for pricing and details.